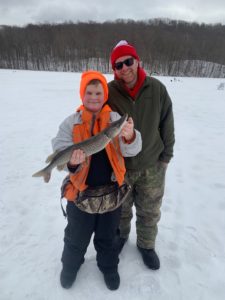 S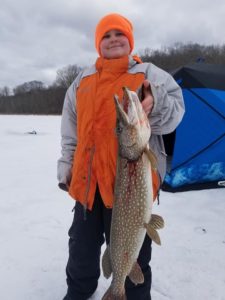 hawn is a Navy veteran and dedicated father who booked an ice fishing adventure for his son Chase and him. Chase's two favorite fish to target are pike and perch, so we strung tip-ups for poor man's shrimp and big toothy critters. Before we could get half of our tip-ups set-up, the flags started popping like popcorn! Chase was pulling little pike and bass out of the holes left and right! After everything was set-up, I fired the grill up for some bacon and egg sandwiches.
 Around late morning, one of the perch flags went up and Chase pulled up a huge jumbo and it was his biggest perch caught to date! A little bit later on, I looked over and one of our toothy critter flags had tripped and was taking line like a drag car running the quarter mile. When we got to the flag, it had stripped all the line down to the knot. Chase, like a seasoned veteran, fought this epic water wolf back to the hole.
Just as it reached the hole, bubbles started rising from below and the next thing we knew, this big 'ol gator head was heading up the ice tube! As soon as I got my hands on him, he was ours and the smile on Chase's face was priceless! This northern was then released to fight another day. Afterwards, I fired the grill up again for some venison bacon cheeseburgers. 😋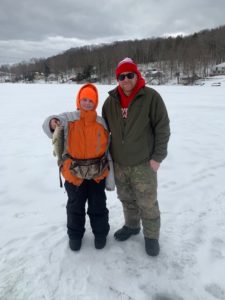 We had a fun filled day with lots of fish caught, beautiful weather, and memories made to last a lifetime! We look forward to seeing these guys on the bass boat come open water. 
🇺🇸 💦 🐟 #FatherAndSonMemories #AwesomeJobChase 
#ThankYouForYourServiceShawn #FifieldOutfitters