Bowfishing in Upstate, New York & Vermont on Lake Champlain (May – October)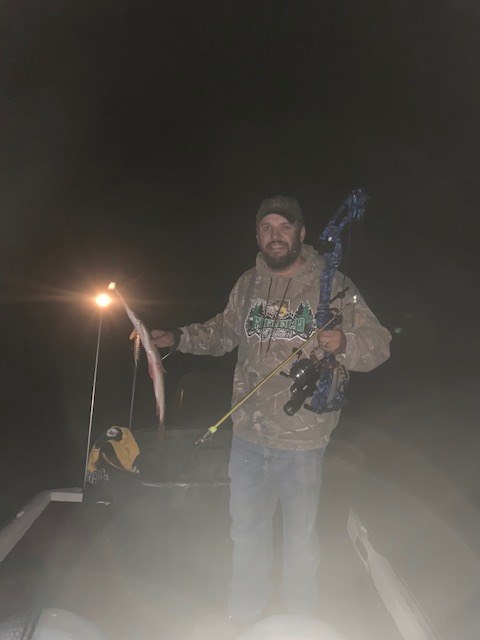 Bowfishing Only:
1 or 2 shooters –
6 hours – $600
*Targeted species: Common Carp, Longnose Gar from 
(NYS – May 15 – September 30) 
*Among other fish records, Lake Champlain holds the current NYS record for Longnose Gar caught by rod & reel & the Vermont state record for Common Carp
*It is very possible to shoot a state record fish on Lake Champlain
Cast & Shoot Package:
1 or 2 anglers/shooters –
Approximately 4 hours of casting & 4 hours of bowfishing = 8 hours – $700
All Bows, arrows, and tackle are provided
Shooters looking to whack more species of fish, should purchase a Vermont State fishing license, too
All trips include bait, fishing tackle, and gear. However, you are welcome to bring your own fishing tackle and gear
Beverages and ice are included
Cast & Shoot Package includes a shore lunch
Bowfishing is very beginner friendly for men, women, and children of all ages
We will give you proper instruction and will be there to help guide you to success
You do not have to touch the fish that you shoot, if you do not want to! The Captain will take care of that, plus disposing of the fish after your trip, if you do not want to keep it
We use all top-notch gear and tackle
Show up ready to have fun catching and shooting fish
What to Bring:
New York State Fishing License
Vermont State Fishing License- Shooters looking to shoot multiple species of fish, must have a Vermont fishing license on board
Although not mandatory, we highly recommend purchasing the short-term Vermont fishing license for everyone on board regardless of the species you are after. This gives your group access to an exclusive part of Lake Champlain that is only bowfished with a VT license
Sunscreen
Polarized sunglasses
Rain gear
Proper clothes for the time of year and anticipated weather
Camera/cell phone for your photos
Meeting Locations:
We will contact you prior to your fishing trip to determine meeting locations and time.
Fishing Licenses:
Persons aged 16 and over must have a valid New York State fishing license.
Payments:
To secure your reservation, we require a $150 deposit. On packages that include lodging, this deposit is non-refundable. However, your $150 deposit on trips that don't include lodging are refundable if cancelled within 14 days of your booked trip's date.
The deposit can be paid by PayPal on our website or a check made out to Fifield Outfitters, LLC can be mailed to us. Any balance due on the day of your trip must be paid in cash or credit card.
Deposit must be received within 5 days of booking your trip to secure your date.