Saturday, we had a bachelor party join us on the ice to give their buddy, Mike, the groom, an ice fishing send off into marriage!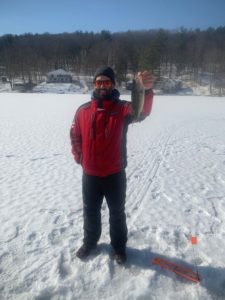 This group traveled to Salem, NY, from all over the country, as far as Los Angeles, California, to celebrate with their beloved friend. Flags were flying with perch, bass, and pike coming out of the hard water holes! Although the big boys didn't come up for a photo opt, it was a fun and exciting time when each flag popped up. You never know what's lurking below!
Once again, our ice fishing grill menu was a HIT! The grill featured hot venison sausage, maple venison sausage, marinated venison back straps, bear steaks, and hot diggity dogs, not to mention all the snacks and drinks to go along with it.
What an absolute pleasure it was working with Steve, who booked and organized this trip. Thank you, Steve!
We also want to thank our brother, Greg Fifield, who was here at 4 a.m. to help us get everything that this entailed ready to roll for the group's arrival on the ice. He worked with us into the evening hours! Also, a thank you to little bro, Chris Fifield, for pitching in with a helping hand throughout the day. We couldn't have done it without you two! We want to congratulate Mike, and his future wife, on their upcoming nuptials! #BachelorParty #IceFishingSendOff #Groom #NYSLicensedGuide #ILoveNY #WashingtonCountyNY #FifieldOutfitters