Buck-Horn Lodge & Housekeeping Cottages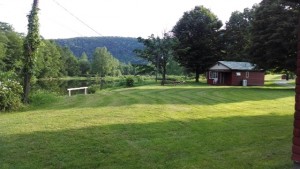 The Buck-Horn Lodge is family owned and seasonally operated. The late Rex and Iris Lewis were the original proprietors. Ron Lewis, their son, along with his wife Carolyn, continue to keep this family business flourishing.
Buck-Horn Lodge's cottages are located on the banks of the East Branch of the Delaware River. There are seven rustic style cabins that have covered porches for relaxing and watching the river go by. A picnic table and a fire pit are next to each cottage. The cabins' location is a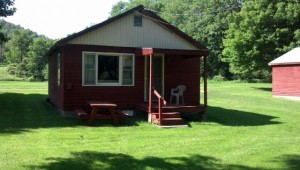 hot spot for observing bald eagles and an occasional golden eagle.
Cottages are one or two bedrooms that are comfortable, clean, and furnished with linens, dishes, and silverware. Depending on the size of the cabin, bedrooms have twin beds and/or a full size bed. Rollaway beds are available. There is a couch and dining room table with chairs in each cabin's living room. Each cabin has a small bathroom with a shower, hot and cold water, and gas heat. The completely furnished kitchenette which includes a gas oven, stovetop, refrigerator, and microwave is compact and handy, with pass through into the living room area. There is local cable TV in each cabin. Picture windows in the cottages give a beautiful view of the river, mountains, and valley.
If you are looking for recreation and/or relaxation, this area superbly accommodates both.
Buck-Horn Lodge offers hunting on several acres of their private, posted land for both large and small game. Many generations have come here to seize a chance at a giant white-tailed encounter, catch a glimpse of that big bruin walking through the woods, and get that heart pounding experience of an ol' tom sounding off 15 feet from them!
Some of the very finest fishing in the country is found here and is a favorite spot for many anglers near and far. Customers can fish right in front of their cabin in the East Branch of the Delaware River. Target species in this river include both brown and rainbow trout. The Beaverkill, located on the West Branch
of the Delaware River and the Pepacton Reservoir are some other highly sought-after places to cast a line in.
Boating, canoeing, kayaking, hiking, bird watching, golfing, observing the brilliant colored fall foliage "leaf peeping," and picnicking/barbecuing are all activities indigenous to this area and are enjoyed by people of all ages.
To inquire on cabin rates, date availability, and to book a reservation, please contact Carolyn Lewis at (607)363-7432 or email her at: buckhorncottages@yahoo.com
To ask more information and/or book a guided float boat and/or hunting package, that includes lodging at the cabins, please contact Ryan, Carolyn's son-in-law, at Fifield Outfitters, LLC. He can be reached via this website by filling out the online contact form or you can call Ryan at his office at (607)363-2701 or his cell at (518)321-8682.